Shows
Floating Melodies - Talk Like A Pirate Party
Ahoy Me Hearties!
Come aboard Popeye ye landlubbers for Talk Like A Pirate Day!
Sing along to Sea Shanties provided by local musicians Hew Wagner and band Brillig and enjoy locally brewed grog Pirate Life Beer!
Along with a local spread of seafood from Angelikas Bros and other delicious local grub ye be sure ye won't want to walk the plank! Pirate games and fun will be had throughout the hour and fifteen minute cruise.
Book early so you do not get a seat in the poop deck!
Booty prizes for best dressed Pirate or mermaid and for completing piratical tasks!
Ye ticket price includes the concert, Popeye cruise, grub and one local beverage! Extra beverages can be bought for $5. Shiver me timbers!
And remember dead men tell no tales!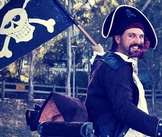 This event has completely sold out!