Shows
Floating Melodies - Mujhe Rang De (Give Me Colour)
It has been said that India pulsates with a spectacular mix of traditions and landscapes. The culture surges, vibrates and makes you feel alive. Your senses are overloaded with colours, shapes, sights, sounds, smells and tastes. We may not be able to experience all the surroundings of India, but we are very lucky to be able to enjoy the culture right here in Adelaide.
Fahad Farooque and his band will lure you in with their sweet water cordial lyrics and Bollywood meets Broadway style music. Fahad's lavish voice melted the hearts of many ladies on board last year! Fusion Beats will instruct you in some Bollywood movements and entertain you with two Bollywood dances while your taste buds are set on a frenzy with locally made traditional Indian foods and beverages! This all takes place on an hour and a half River Torrens cruise on board local icon, The Popeye.
This event sold out in last year's Festival Centre OzAsia Festival. To see pictures and videos from last years event head over to https://www.facebook.com/media/set/?set=a.814016155329820.1073741834.737177753013661&type=3 
Ticket prices include the Popeye trip, the concert and dances, food and one beverage. Extra beverages can be purchased on board for $5. Children under 12 will receive a special children's pack of food and a fruit box and can partake in the concert and dancing! *Please note children's tickets are limited!
The weather is looking perfect for the long weekend! What a great way to spend an evening in Adelaide!
**I am able to cater (with a weeks notice) for vegan, gluten free and dairy free.
Live as if you were to die tomorrow. Learn as if you were to live forever - Gandhi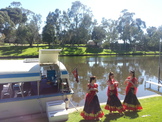 This event has completely sold out!