Shows
THE BAKER SUITE and VINCENT'S CHAIR
TRINITY SESSIONS PRESENTS A GREAT DOUBLE BILL: THE BAKER SUITE AND VINCENT'S CHAIR. Doors 7.30pm Music 8pm. Fully seated; general admission. Food at interval by Little Seeds. Licensed bar pre show and at interval.
7.00 Bar opens
7.30 Doors open
8.00 The Baker Suite
9.05 Interval
9.35 Vincent's Chair
10.45 Finish
Art-folk, french cafe, and gypsy romantica…storytelling is at the heart of The Baker Suite, surrounded by rich instrumentation and evocative melodies. Playing in festivals and theatres across the globe, they take the listener on cinematic journey's from the seaside carnival ground to the central desert. The songs of The Baker Suite paint vivid, interesting portraits of real life from a true observer's perspective. John and Gayle allow their characters to narrate stories that conjure up all sorts of images in the listener's mind while the ductile music plays, allowing the spirit to wander. The Baker Suite have been performing their original music throughout Australia and internationally for over 11 years and released 4 studio albums.

'Minor masterpieces that blend folk, country, blues and jazz speckled with global allusions sit beside quirky pop songs suggestive of Paul Simon'. The Weekend Australian.
Vincent's Chair is an Australian contemporary acoustic group founded by singer-songwriter, Kathie Renner. The songs, by Renner – who cites Sting, Joni Mitchell and Paul Simon as her influences – have an eclectic sound that crosses all musical boundaries, and articulate enigmatic story-telling with a focus on honest musicianship. After the release of their latest CD, "The New Vibe" at the renowned Adelaide Festival Centre in 2014 Vincent's Chair has continued their busy schedule of performing and touring and will be undertaking their sixth tour of Europe in September where their popularity continues to grow.
The Vincent's Chair line-up consists of Kathie Renner on vocals, keyboards and guitars, Karen De Nardi on viola, Sam Leske on guitars and Holly Thomas on percussion.
"Vincent's Chair are the real deal – wonderful musicians playing all-original, beautifully crafted songs" InDaily, Adelaide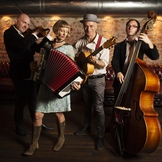 This event has completely sold out!