Shows
JEFF LANG with guest BEN FORD-DAVIES
TRINITY SESSIONS PRESENTS FOR THE FIRST TIME JEFF LANG. Music at 6pm Doors open at 5.30pm. Licensed bar available from 5pm with food at interval by Little Seeds Catering.
There would be no better place in Adelaide to hear and see the world acclaimed Australian-based musician Jeff Lang - a virtuosic guitarist, a dynamic songwriter and a startlingly unique live performer.
"Jeff Lang is one of those people who has music dripping from his fingers." Courier Mail, Australia
With a back catalogue of 15 studio albums, Jeff has been featured at major festivals, pubs, clubs, arts centres and venues internationally for the past decade. Blending rock, roots, folk, blues, ballads, instrumentals, improvisation and a devastatingly high level of musicality, Jeff Lang is a singularly unique performer in our world.
Jeff Lang's newest record, "I Live In My Head A lot These Days" was released in May 2014 via ABC/Universal. His most recent world music collaboration is Maru Tarang with Asin Langa & Bhungar Manganiya from Rajasthan & Bobby Singh. This group combines ancient Rajasthani folk music's with Jeff's individual "Disturbed Folk". Their debut album was released on Feb 13th 2015.
Throughout his career, Jeff has been showered with achievements and awards - the most outstanding would be his seven ARIA award nominations, as well as his three wins in 2002, 2010 and 2012.
His previous album, "Carried In Mind" (ABC/UNIVERSAL) won the 2012 Aria award for "Best Blues & Roots", was awarded "Album of The Year" by Australia's roots music bible, Rhythms and won the 'National Folk Recording Award' presented by Australia's National Film and Sound Archives. Always one to experiment with genres and instrumentation, Jeff's world music project Djan Djan won the 2010 ARIA for "Best World Release".
Over the years, Lang has built up a devoted, almost cult-like following with his live performances. Working without a set list and allowing the unique energy of each night to shape the songs, Lang's live shows have become much talked about, always taking the audience along for the ride, has seen word of mouth bloom into a successful career.
It's been widely acknowledged that Jeff Lang is an extraordinarily individual musician. What enhances his unique nature is his steadfast adherence to a prolific and diverse musical palette and output. A songwriter, a collaborator, a guitar virtuoso and a stunning lyricist, Jeff Lang crafts songs as novellas - rich with depth and vision, yet with an open breathe for individual interpretation.
"Jeff Lang is, in my humble opinion, a national treasure, a truly gifted songwriter and an outstanding guitarist. He has been inspiration to countless Australian and internationally renowned roots artists and surely has a place in history as one of this generation's finest. He has really touched me and musically, I had a kind of revelation…" John Butler, John Butler Trio
"In a world where music is diluted by money and plasticine, give thanks that Jeff Lang is out there... He paints pictures in sound." Beat Magazine
Supporting Jeff it is a pleasure to have young Adelaide performer Ben Ford-Davies. Adelaide born Ben has travelled widely, forging a reputation at Port Douglas which lead to invitations from tourists to play in Europe. His touring there gathering great reviews in Ireland ("an older, wiser Ed Sheeran"), Holland ("contemporary chilled vibe and the intelligent message"), Germany ("a voice destined for a big career"). He is currently recording his debut CD for release in 2016; I'm sure we will get a taste of it at Trinity Sessions.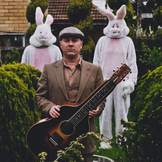 This event has completely sold out!