Shows
ADELAIDE - THE SONGS,THE STORIES, THE PLACES, THE PEOPLE
Celebrate the unique character, identity, history and development of Adelaide in a concert/cabaret of 'brand new songs' that takes us through Adelaide's 175 glorious and fascinating years of social history.
'Adelaide –The Songs' comprises twenty brand new songs by thirteen SA songwriters, each song inspired by our great city and its story through time. This unique and fascinating event, expressing the history of a city through songs sees SA songwriters tackling the early years, individual stories, the
Character of our streets & parks, momentous events and social movements
and the changes that have occurred over time to make Adelaide the unique Australian city it is. Songwriters cover it all: ...Pubs & Churches, Battlers, Explorers, Pioneers, Grand Buildings, Grand Ideas, Reformers, Lost Souls, Entertainers and more, painting a fascinating musical canvas that tells our unique Adelaide story.
'Adelaide –The Songs' is part of the 'About Time - SA History Festival' and will be presented as an Edwardian Cabaret/Vaudeville style event. Audiences are encouraged to 'dress to impress'. This special musical celebration will be presented and narrated by well known SA media identity Carole Whitelock.
Contributing songwriters include: Jo Ankor, Marcus Coates, Steve Foster, Dave Greenslade, Alan Hartley, Keith Preston, Adrienne Lovelock, Sandi McMenamin, Elizabeth Reid, Paul Roberts, Paula Standing, Kasey Stephenson Matt Swayne, and more. A house band coordinated by award winning Adelaide musical group Brillig together with guest musicians and singers and with St Cuthberts Choir will perform this unique presentation of songs accompanied by projected historic images, new musical compositions and fascinating narrative celebrating Adelaide 'from then till now'.
'Adelaide –The Songs' is presented by Ruby Award winning arts organisation HATs Inc (Heritage Arts and Traditions) The project was seeded through the Adelaide City Council City Library as a project bringing together SA songwriters and acclaimed SA historian Pat Sumerling. This concert presentation is supported by APRA/AMCOS, HATs Inc and The National Trust (SA)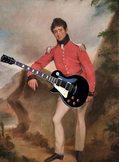 This event has completely sold out!