Shows
Alasdair Fraser and Natalie Haas
The Cheese Factory, Meadows, Thurs March 19th, 7.30pm
The musical partnership between Alasdair Fraser, long regarded as Scotland's premier fiddle ambassador, and the highly talented young Californian cellist Natalie Haas has been one of the most exciting developments in Scottish traditional Music. Alasdair has been at the top of Scottish fiddle league for more than 30 years with a long list of awards, accolades, television credits, and feature movie soundtracks (Last of the Mohicans, Titanic). His musical partnership with Natalie, a graduate of the Juilliard School of Music, is the fulfilment of a long-standing musical dream for Fraser, whose cutting-edge musical explorations took him full circle to find a cellist who could help him return the cello to its historical role at the rhythmic heart of Scottish dance music.
In concert with fiddle and piano duo, Catherine Fraser and Duncan Smith.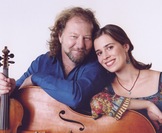 This event has completely sold out!