Shows
BABY et LULU ALBUM LAUNCH with THE BAKER SUITE
TRINITY SESSIONS PRESENTS BABY et LULU (FULL BAND) with THE BAKER SUITE. Doors 7.30pm Music 8pm. Food by Little Seeds Catering and licensed bar.
"Très charismatic pairing of sexy songstresses'" The AU Review

"Dobson & Goodridge's vocals entwine; two lovesick songbirds in a melancholic pas de deux. Superb... " Australian Stage

"There's a joie de vivre… C'est tres bon." Sydney Morning Herald
Baby et Lulu, Australia's seductive French-language duo, are set to release their sensational new CD, 'Album Deux'.
A truly magnetic musical partnership, much loved artistes Abby Dobson (Leonardo's Bride) and Lara Goodridge (FourPlay) perform a selection of new self-penned compositions as well as classic and contemporary chansons written by some of the greatest French songwriters.

Join us and be swept away by these sultry songbirds and their prodigious band in a celebration of la vie française. Tickets won't last so secure yours rapidement!
Baby et Lulu along with their superlative band, including Marcello Maio, Matt Ottignon, Julian Curwin and Mark Harris, will be playing Trinity Sessions for the first time after their previous Adelaide visits saw them sell out two shows at the Adelaide Cabaret Festival and debuting at WOMAD.
Their concerts are an eclectic mix of classic and contemporary songs written by some of the 20th century's greatest French songwriters. From romantic songs about strolling along the Champs Élysées and a much loved Cole Porter jazz standard, to tracks made famous by cultural icons Edith Piaf, Brigitte Bardot, Serge Gainsbourg, Charles Aznavour, Camille and Françoise Hardy – Baby et Lulu have collated a passionate tour de force of French song.
Make sure you hear the romantic and enchanting beauty so well captured onstage by Baby et Lulu.
"They have a tongue-in-cheek rapport and their voices blend beautifully as they roll out hits...Dobson's French adaptation of her hit single Even When I'm Sleeping was a highlight and Goodridge plays a mean fiddle." Adelaide Now
"Dobson and Goodridge had the seated audience eating out of the palms of their hands... and pranced off stage to the sounds of a standing ovation" The Drum Media
www.youtube.com/babyetluluvideos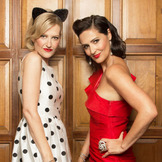 This event has completely sold out!