Shows
DARREN HANLON CHRISTMAS SHOW
TRINITY SESSIONS PRESENTS DARREN HANLON'S CHRISTMAS SHOW with SPECIAL GUEST Anthonie Tonnon from NZ. Doors 5.30pm Music 6.00pm Food by Little Seeds Catering. General Admission. Children under 12 are free - please e-mail to advise how many - freeman@kern.com.au
It's great to welcome back Darren Hanlon for his legendary Christmas Show; last at Trinity Sessions in 2012 for a sold out show. At that show he introduced us to Courtney Barnett who is now making it big in the US and Europe. I can't wait for this one.
A veteran of the Australian music scene, having completed stints as a supporting guitarist and keyboard player for the Lucksmiths, the Simpletons, the Deerhunters and Mick Thomas (Weddings, Parties, Anything), singer/songwriter Darren Hanlon officially stepped out on his own in 1999. A charming and clever songwriter, drawing comparisons to Evan Dando and Billy Bragg, Hanlon wasted little time in establishing himself as a compelling storyteller and prolific songwriter with his observational wit and memorable pop hooks.
Darren recently performed with Mick Thomas and friends in The Vandemonian Lags show at the Adelaide Cabaret Festival.
Here is a couple of clips of Darren and you will find a whole lot more on YouTube
https://www.youtube.com/watch?v=wwsWs0sImwk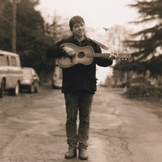 This event has completely sold out!