Shows
WINTER BLUES with ZKYE BLUE, SWEET BABY JAMES AND ROB EYERS, THE HUSHES
Trinity Sessions presents the second of its Winter Sessions - Winter Blues; supporting local, live and original music. A blues themed evening with three great bands and winter food catered by Little Seeds Catering and bar. Doors open 4.30pm. Music at 5pm.
Schedule (approx)
5pm - 5.45pm The Hushes
5.45 - 6.30pm Interval - food and bar
6.30pm - 7.15pm Sweet Baby James
7.25pm - 8.15pm Zkye Blue
ZKYE BLUE is Zkye Compson-Harris' full blues band. This is a rare chance to see them strutting their original stuff outside of the usual pub scene where the individual talents of the band can shine, along with the power of Zkye's vocals.
There is a distinctive timbre and gutsy-ness to Zkye's voice drawing comparisons with many and varied blues singers from contemporary to bygone days including Koko Taylor, Etta James, Irma Thomas and Janis Joplin. This diminutive diva doesn't just write great blues songs; she sings them with oodles of soul, gusto, passion and credibility. And on her CD "Just the Way It Goes" her self-penned songs fit comfortably amongst other well-chosen selections. Although blues based, her performance eschews elements of rock and soul mixed with its country leanings.
There are so many comments in reviews of SWEET BABY JAMES AND ROB EYERS that go along the lines of "can't understand why they are not bigger". We can't tell you either, but the energy and raw blues power of this duo will probably make you ask the same question. Their latest CD drew the following comments from the Age review "Not since the earliest days of Peter Green's Fleetwood Mac have I heard someone pull this off so successfully". They have played at major Australian festivals including WOMAD and are in demand in the studio. The Sunday Herald Sun states that James "channels Elmore James" while Rhythms Magazine says they "outshoot the White Stripes, the Black Keys, the Mess Hall, the Fumes, anyone you care to mention, plus it's blues over rock, and this only serves to elevate them higher".
'Flowing high in the mountains, where ravens circle the pines, THE HUSHES begin their musical journey downstream. In their leaky boat, with enough whiskey to stave the hunger, and enough guitars to do the tellin', these troubadours weave the narratives of those they meet along the way; murderous lovers, ritual baptisms, small backwater towns; life, death and all that passes between.' Combining the talents of blues maestro Cal Williams Jr, acclaimed Jazz double bassist Kory Horwood, sultry chanteuse Emily Davis and silver fingered banjo player Ben Timbers, The Hushes revive and reinterpret the enduring sounds of theAppalachian mountains, bluegrass, gospel, and folk music. Their acclaimed musicianship and gripping on stage chemistry are takingAdelaide audiences by storm as they perform original songs inspired by the dark, the divine and the disturbed.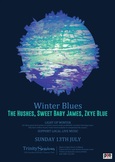 This event has completely sold out!