Shows
WOMEN IN DOCS WITH FIONA BOYES
TRINITY SESSIONS PRESENTS WOMEN IN DOCS WITH FIONA BOYES DOUBLE BILL MUSIC AT 8PM DOORS AT 7.30PM
Women in Docs are launching their new CD around Australia and we are so pleased to be hosting the Adelaide launch, and with Fiona Boyes dropping in to be a part of the show this will be one of the best nights of the year. The Doccies are renowned for their raw, exciting, upbeat sounds, well-considered (and often humorous) lyrics, crisp, acoustic guitar and soaring harmonies. The act gathers large, loyal crowds wherever they play including all major music and folk festivals across Australia and the USA. Their music is reminiscent of the Indigo Girls and the Waifs, with a little bit of Dixie Chicks thrown in. Women in Docs have played major festivals throughout the world, including SXSW in Austin, Texas; Folk Alliance in San Diego; Canadian Music Week, Toronto; Shanghai Spring Music Festival, Shangai; and the International Folk Festival, Germany. Get caught up in their ever growing, homespun web of fans! 'a well-crafted and terrifically realised set of songs…infectious folk pop…disarmingly charming…' The Australian 'Their earthy vibe and strong voices deserve attention' Rollingstone Magazine '…a polished showcase, …energy and ebullience (is) evident in the Doc's live shows…..voices, beautifully translucent in solo verses, overlap into the sweetest harmony in the choruses.' Rhythms Magazine.
Fiona Boyes played at Trinity Sessions last year and loved the venue where she could showcase her finger picking style in an acoustically beautiful room in front of an appreciative crowd. Australian Blues guitarist and singer, Fiona Boyes, has been variously described by reviewers as a 'musical anomaly', 'Bonnie Raitt's evil twin', or simply as 'scaring the hell out of me'. How did this fair-haired gal, born and raised in Melbourne, Australia, of Scottish and English heritage, become an internationally recognised and awarded recording and touring artist? How did she come to be the first woman and non-American to win the International Blues Challenge in Memphis? Why did some of the great Mississippi Delta and Chicago blues giants, such as the late Pinetop Perkins and Hubert Sumlin, choose to describe her as one of the best women guitar players since Memphis Minnie, record on her albums, and share stages with her at international Blues festivals? How does it come about that the Mayor of Clarksdale, Mississippi, birthplace of the Blues, should present Fiona with the 'Key To The City', recognising her as an Aussie ambassador of the Blues? The answer lays partly in Fiona's striking and original talent; she writes, sings and plays just about anything in the Blues realm with passion and authenticity. It is also her immersion in the wide musical and historical traditions that make up the Blues and her deep love of the art-form itself. Equally at home on acoustic or electric guitars, her repertoire is like a Blues travelogue. Listen to her play and you'll hear pre-war Delta slide, wailing laments, single chord Mississippi Hills grooves, intricate and beautiful Piedmont finger picking, rollicking New Orleans barrelhouse, greasy Memphis soul, driving classic Chicago sounds, the country stylings of Texas swing, and the uptown sounds of the West Coast. I ain't never heard a woman finger-pick a guitar like that since Memphis Minnie. She's the best gal guitar player I heard in more than 35 years.' - Delta pianist & Blues Hall of Fame Legend 'Pinetop' Perkins Nominated for 'Traditional Blues Female Artist of the Year' in the 2010 Blues Music Awards, Memphis, USA previous nominations: 'Acoustic Album of the Year' - 2009 'Contemporary Female Blues Artist of the Year - 2008 'Contemporary Blues Album of the Year' – 2007
http://womenindocs.wordpress.com/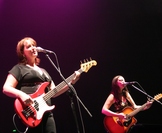 This event has completely sold out!