Shows
The Complete First Season & The Sexy Detectives present: Sketch Pad
Two of Brisbane's funniest comedy groups are teaming up to launch the city's first and only sketch comedy night event.
Sketch Pad is an effortless comedy cocktail of rapid-fire sketches, monologues and hilarious good times. Mix one part The Sexy Detectives – winner at back-to-back Rottofest's Funniest Shorts fests in 2011 and 2012 – with one part The Complete First Season – coming off the back of a 2012 sold out season – and you've got Brisbane's very first sketch team-up comedy night, and an event comedy lovers won't want to miss.
Two troupes, one show!
Two performances: 7pm and 9pm Saturday April 20th
$19 adult / $15 concession
!MetroArts
The Studio
109 Edward St, Brisbane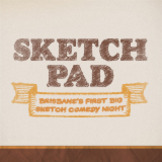 This event has completely sold out!