Shows
50 Shades of Gravey
Gravëy, the comedy rock band from beyond the grave, is back and ready to bring you a rock resurrection!
Gravëy is rock! Gravëy is passion! Gravëy is a bunch of dead musicians who always aim to please (if you know what I mean). This is 50 Shades Of Gravëy – pornography for the ears!
From Comedy Festival regulars Aardvarks Anonymous comes a fresh take on the rock comedy scene. Gravëy brings you ripping solos and rocking choruses that will make your neck sore from head banging and your belly ache from laughing.
"A fun filled hour of enjoyment and when it's all over you'll wish that it went for longer." RHUM
"This is a great option for festival-goers seeking something different." Herald Sun
"A lot of very funny jokes, some inspired moments, and a ton of great music." Bon Vivant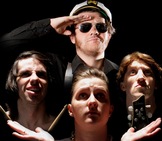 This event has completely sold out!