Shows
Paul Brady - The Extremely Acoustic Tour
An evening with Paul Brady on stage is a captivating experience, and this great talent can easily be compared to his contemporaries such as Jackson Browne, Van Morrison, Richard Thompson and Mark Knopfler
This will be Paul's long awaited return to Australian shores since his last visit in 2006. This time round he will be delivering a solo acoustic performance on an array of instruments including guitar, bouzouki, mandolin and keyboard.
The program will include a dynamic selection of songs from throughout his career, spanning the contemporary and traditional genres that are his hallmark.
To see Paul perform in this "unplugged" format is an intimate, captivating experience and a showcase of his enormous talents as a singer, songwriter and instrumentalist. The tour is an opportunity to witness one of the world's great talents up close and to hear some of his most popular songs and personal favourites "the way he wrote them".
Paul's songs have been recorded by a long list of international artists such as Bonnie Raitt, Tina Turner, Carole King, Carlos Santana, David Crosby to name but a few.
Paul Brady, singer, songwriter and multi-instrumentalist is one of Ireland's most highly regarded and successful artists. He crosses musical boundaries again and again, incorporating folk, rock, blues traditional Irish & classic pop styles into his songwriting.
His live performances, whether solo or full band, incorporate songs from his extensive catalog of 40 years. Paul continues to garner huge respect from the younger writers and performers of today.
Glen Hansard, Sarah Siskind and Shawn Colvin who are among the many that hold him in high regard
"Some guys got it down" - Leonard Cohen
"The iron fist in the velvet glove of Irish music" - Bono
"Probably the best melody writer I can think of" - Bonnie Raitt
.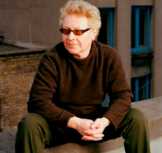 This event has completely sold out!