Shows
Unpacking Femme
Sydney Femme Guild welcomes femmes and femme-allies to our second conference
Unpacking Femme
FRI 8 + SAT 9 FEBRUARY 2013 - University of Technology, 730 Harris St. Sydney
Keynote Speakers:
Amber Hollibaugh (USA)
Leah Lakshmi Piepzna-Samarasinha (CAN)
Kath Duncan (AUS)
A conference to explore 'Femme' beyond image and identity. When Femme Guild held our first conference in 2010, "Femme In the Frame", there was a strong focus on visibility and celebration of Femme. Now, we aim to explore the realities and the possibilities of Femme; go further into the complexity of Femme experiences and meanings. We want to foster a program where a wide range of femme voices are heard and work for diversity within Femme Guild, and the surrounding femme and lgbtiq communities many of us live in and relate to.
Come and be amongst Femme activists, community members, academics, creatives, collaborators and allies. Friday evening will include keynote speakers and panel discussions. Saturday will be a packed day of concurrent sessions for workshops, panels, skill-shares, discussion groups and more.
Friday 8 February, 5-pm - 9pm. Keynote speakers and panel, followed by welcoming drinks at The Loft Bar next door (all welcome).
Saturdat 9 February, 9am - 5pm. Keynote speakers, panels, lectures and workshops. Snacks, tea and coffee provided, but please BYO lunch.
For more information or to get involved conference@femmeguild.com or find us on Facebook
Full program available shortly at www.femmeguild.com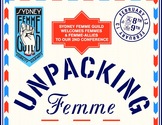 This event has completely sold out!