Shows
JORDIE LANE FOOL FOR LOVE TOUR
Trinity Sessions presents Jordie Lane Fool For Love Single Release Tour Music at 8.00pm Doors 7.30pm BAR AVAILABLE pre-show and interval

Jordie Lane will hit the road in November and December to celebrate the release of his new single 'Fool For Love', available as an exclusive free download from October 1 at www.jordielane.com
Following his North America tour, Jordie supported UK Icon Billy Bragg on a solo theatre tour and now he is taking his cracking 4-piece band on the road for a nationwide tour with very special guest Jackson McLaren.
Grounded in the Blues, 'Fool For Love' is a psych-folk rambler. Walking with a West Coast bass line and trash can drums, the track also sees the return of The Eagle Rock Gospel Choir. Recorded in LA with Grammy Award winning Producer Tom Biller (Kanye West, Beck, Fiona Apple) and legendary drummer Matt Chamberlain (Bruce Springsteen, David Bowie, Stevie Nicks), 'Fool For Love' marks a new direction for Australia's folk troubadour. It is the first single from Jordie's forthcoming third album, due for release in early 2013, and follows his critically acclaimed 2011 release 'Blood Thinner' which was nominated for 'Best Blues & Roots Album' at the 2011 Australian Independent Music Awards.
"One of Australia's brightest new roots music stars... You can't help but cry 'Genius'" Rhythms Magazine
"It's hard to accurately describe the feeling in the room but it's music like Jordie's that makes it seem like the world's not such a bad place, and nothing evil could exist when there's something so sweet as that" AU Review
Jordie Lane is a critically acclaimed singer/songwriter who is widely regarded as the leading light of Australia's folk/alt-country music scene. Blending the dark romanticism of Bruce Springsteen, the country swagger of Gram Parsons and the versatility of Ryan Adams, Jordie creates music that pushes boundaries while remaining universally accessible.
A dynamic live performer, Jordie's stage show centres around his story-telling and crowd interaction. In the vein of UK icon Billy Bragg, his performances shift from folk concert to comedy show to rock n roll gig in the space of two songs.
In 2012, Jordie made his theatre debut starring in the Australia premiere of 'Grievous Angel: The Legend of Gram Parsons' to rave reviews. Recently he returned to North America to showcase at Americana Music Festival, Ontario Council of Folk Festivals and to continue recording his third album.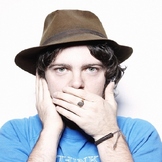 This event has completely sold out!