Shows
Level 2: Intro to Long Form | Workshop Series with On the Fly
You've learnt the foundations of improvised theatre; from basic skills and characters, to scenes and games. Now it's time to extend these skills in the world of long-form improv.

In this workshop series, you will learn the process of creating colourful and engaging long-form performances as you try out some famous long-form formats. Discover the importance of character, world and narrative jumps and work together with your fellow improvisers to craft a full story as you never have before.
If you've ever seen a long form show like Middleditch and Schwartz, or Adelaide's own Letters to the Editor (Changing Jennifers), Vicarious Cabaret (Spoonerise This!), or Dropped In It (Tenuous Link Productions), now is your chance to try it out for yourself.
These sessions will be led by tutor Kirsty Wigg, who has collaboratively developed such long form shows as UnPlotted Potter, What Are The Rules? and Midwinter Murders, and performed in countless more including Vicarious Cabaret, Dropped In It, Upstairs Downton, Death Comes at the End, Tales of Adventure and A Total Cop Out.
Book all sessions up front now for a 10% discount! Just select the Full Term option. If not sold out, sales for individual weeks will open closer to the time.
***KEY DETAILS***
Date: Wednesdays, 8:15pm, 13 April - 25 May (excluding 4 May).
Venue: The Joinery, 111 Franklin Street Adelaide
Duration: 90 minutes per class
Pre-requisites: Completion of one year or more of improvisation workshops with On the Fly Impro or a similar organisation (Level 2).
Dress Code: Casual and comfy
Cost: $16 full price/ $8 concession per class (or $12 full price/$6 concession for people with 2022 Membership to On the Fly).
Select a Full Term ticket option to book all sessions up front, receive a discount and guarantee your place for the whole term.
*** COVID-19 POLICIES ***
Due to government restrictions and to help everyone feel safe, please adhere to the following:

- If you are feeling sick, do NOT attend.
- Masks are currently optional during our workshops as per SA Health guidelines
- You are asked not to touch anyone during the workshop, practice physical distancing and maintain good hand hygiene.
These workshops will have strict limits to the number of participants in each workshop. Book online to avoid disappointment!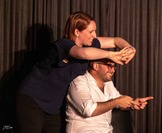 This event has completely sold out!