Shows
Maestro Rehearsals 2022
On The Fly is kicking off 2022 with Fringe rehearsals for this year's Meastro show. The show will be held at the Griffin, Tue 1 Mar - Sun 6 Mar: 6pm (see link below)

Rehearsals start on 12th January at The Joinery, 7pm - 8:30pm, and will be held each Wednesday night through to Feb 16th, inclusive.

You're welcome to join the cast if you've done at least the "Intro to Impro" course and one other term of improv with OTF (2 terms total) and we'll try and cast everyone who's keen to try their hand on stage for the run of shows (we'll make a hand-dandy spreadsheet for availabilitity). Preference will be given to those who attend rehearsals and please note that show call time for performers will be 5pm on the night.
*** KEY DETAILS ***
Date: Wednesdays 7:00pm, 12 January - 16 February
Venue: The Joinery, 111 Franklin St, Adelaide
Duration: 90 minutes per class
Pre-requisites: Must have completed Intro to Impro and one other term with On the Fly.
Dress Code: Casual and comfy
Cost: Rehearsals are charged at a $5 flat rate per session (no concession/member price). This low cost is to thank you for your commitment and performance in our show, while still helping us to cover some of the venue costs for rehearsals.
Rehearsals led by: Marshall Cowan

*** COVID-19 POLICIES ***

Due to government restrictions and to help everyone feel safe, there will be a few changes to the way our workshops usually run.

- If you are feeling sick, do NOT attend.
- Masks are currently compulsory at all times during the workshops
- You are asked not to touch anyone during the workshop, practice physical distancing and maintain good hand hygiene.
These workshops will:
- Have strict limits to the number of participants in each workshop. Book online to avoid disappointment! The density limitations are subject to change at any time.
- Comply with any COVID-19 rules given by The Joinery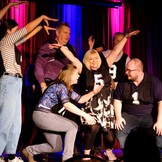 This event has completely sold out!