Shows
Imogen Clark @ Flow Bar
THIS SHOW HAS BEEN CANCELLED. ALL TICKETS WILL BE REFUNDED.
Imogen Clark is an Australian indie rock artist, hailing from the Blue Mountains of New South Wales. Her music ranges from the intimate to the arena-ready, rock anthems with the soul of a confessional singer-songwriter.
Despite the myriad challenges that 2020 brought to the music industry, Imogen had a banner year - she released a critically acclaimed EP, played a sold-out livestream concert series, performed back-to-back sold-out Sydney launch shows in September, dropped a nostalgic Christmas single, and wrapped it all up with an epic First Annual Holiday Hootenanny gig with her musical mates – including Montaigne, Jack Moffitt (The Preatures), Lindsay McDougall (Frenzal Rhomb) and more.
The 26-year-old has lost none of her momentum in 2021, with her powerful new EP 'Bastards'. The six-track collection, begun in person in LA with a cast of rock legends, then later finished remotely over Zoom during the pandemic, is the most raw and intense music Clark has released to date.
Reteaming with LA-based producer Mike Bloom (Julian Casablancas, Jenny Lewis), Imogen builds on the rich, dynamic sound of her last EP, taking everything to a new level – the drums hit harder, the guitars are louder, the emotions more intimate and transparent. Across the six songs, Imogen sings about betrayal in love (Forget About London), a couple too afraid to end a doomed relationship (Casualty), her family's history of addiction (Never This Time), the loss of her mentor to suicide (First Class Man) and the men in the industry who refuse to see women as their equals (Bastards).
Amongst the murderer's row of collaborators on the record include Men at Work's Colin Hay, Dawes frontman Taylor Goldsmith, Rilo Kiley's Jason Boesel and Melbourne indie-pop artist Eilish Gilligan as co-writers, and Tom Petty and the Heartbreakers keyboardist Benmont Tench and Elvis Costello and the Attractions drummer Pete Thomas lending their legendary chops to the recordings.
Cutting her teeth playing in local pubs in the Blue Mountains during her teen years before touring and recording around the world, from the US to Europe to the UK, Imogen brings the depth and confidence of a seasoned rocker to the stage despite her youth. Taking inspiration from legends like Bruce Springsteen and Joni Mitchell as much as contemporary heroes Gang of Youths and Phoebe Bridgers, Imogen's music continues to dissolve the barriers between her emotions and her audience, even as her music and shows get bigger in size and scope.
2021 has already been the biggest year of Imogen's career to date, including a sold-out Sydney residency, a packed-out secret EP launch show streamed around the world, regional touring, rave reviews for Bastards and now the release of her first ever live record Not A Little Girl, a tantalising taste of what to expect when she takes the stage with her electrifying band for headline shows in November.
Doors open at 6:00pm for Dinner and Drinks | Show starts at 7:00pm.
More info on the venue:
Accommodation available upstairs at our:
www.boogiewoogiebeachhouse.com.au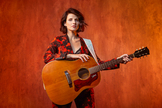 Dramatix is currently unable to provide tickets for this event.
Please contact Flow Bar on 6557 4224.
We look forward to seeing you at Flow Bar on: