Shows
Intro to Impro | Workshop Series with On the Fly | Term 4
Want to improve your public speaking skills or feel more comfortable when put on the spot? Is there a performer inside you, dying to get out? Are you an actor looking to develop your improvisation skills?
If you answered yes to any of these questions, or you just want to have a truckload of fun, improvisation is for you!

Improvisation has been made popular by television shows such as Thank God You're Here, Middleditch & Schwartz and Whose Line is it Anyway?, and now you can join On the Fly's experienced teachers to explore its core concepts over six weeks, in a supportive and collaborative environment.
Book all sessions up front now for a 10% discount! Just select the Full Term option! If not sold out, sales for individual weeks will open closer to the time.
*** KEY DETAILS ***
Date: Wednesdays 6:30pm, 13 October - 24 November September (NB: No class on 3rd November)
Venue: The Joinery, 111 Franklin St, Adelaide
Duration: 90 minutes per class
Pre-requisites: None - all welcome
Dress Code: Casual and comfy
Cost: $12 full price/ $7 concession per class.
Select Adult Full Term or Concession Full Term to book all sessions up front, receive a discount and guarantee your place for the whole term. If not sold out, tickets for individual weeks will become available closer to the date.

*** COVID-19 POLICIES ***
Due to government restrictions and to help everyone feel safe, there will be a few changes to the way our workshops usually run.

- If you are feeling sick, do NOT attend.
- Masks are currently compulsory at all times during the workshops
- You are asked not to touch anyone during the workshop, practice physical distancing and maintain good hand hygiene.
These workshops will:
- Be discounted to help everyone get back into improv after the pandemic!
- Have strict limits to the number of participants in each workshop. Book online to avoid disappointment!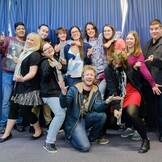 This event has completely sold out!