Shows
2021 New - Op Shop Town Op Shop Tour
Love shopping? Love bargains?
Join Julie and Kelly for the new Op Shop Town You, Us and a Bus Op Shop Tour!
Tickets are $38 (including booking fee) only payable with a credit/debit card online via Dramatix. Our ticket price hasn't increased in seven years and we don't intend to increase it now!
Please read our 2021 COVID-19 Tour Conditions prior to booking.
Your op shopping experience will begin at 9am at the SALVOS, 422 Morphett St, Adelaide. Free parking is available on South Tce, near Morphett St. You'll have time to find some fantastic bargains before the bus arrives to pick us up from 9:30am. Departure time may vary depending on the tour.
This fun 4 hour tour will then travel from the city to St Richards Brooklyn Park and Kidman Park to visit some amazing Op Shops. This tour will include a short stroll between 6 Op Shops. Specials and discounts have been organised only for You, Us and a Bus customers! Please bring cash for those shops without EFTPOS facilities and extra shopping bags if you wish. Please note routes and shops may be subject to change without notice. Tour subject to our 2021 COVID-19 Tour Conditions.
We will return to the SALVOS, 422 Morphett St, Adelaide at approx 1:30pm.
Happy Op Shopping!
Julie and Kelly from You, Us and a Bus.
Ph 0421613658
2021 COVID-19 Tour Conditions
Our 2021 tours abide by our COVID safe plan and we have a QR code so you will be required to check into the tour on the day either via the QR code App or by manually signing in. If you do not check in you will not be able to attend the tour and no refunds will be provided.
Hand sanitiser is available for use when you sign in and on board the bus.
Due to COVID restrictions we are unable to provide a shared morning tea as we have done in previous years. COVID restrictions only allow individual food portions something that would be cost and logistically prohibitive for us and this would add significant costs to the tour ticket price which we are not prepared to do. Therefore, please bring your own (non-alcoholic) drinks and snacks, there will also be places to get a bite to eat en route at your own expense. Toilets are also located en route.
Due to social distancing requirements we have to visit larger Op Shops or smaller Op shops within a short walking distance of each other so we can all spread out shopping. In some of the smaller shops there may be unavoidable short delays with entering the shop.
Please be mindful that in line with government regulations, social distancing on charter buses is not required. Family and friends groups can sit together but please be aware that you may be sitting next to a fellow op shopper that you don't know (yet). You will also be required to sit in the same seat throughout the tour. You are welcome to wear a mask on board the bus or in the shops if you wish.
Tickets are $38 (inc booking fee) only payable with a credit/debit card online via Dramatix.
No refunds are provided for change of mind or inability to attend a tour. However if we need to cancel a tour for any reason or due to a COVID Government Direction we will refund your ticket price.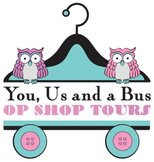 This event has completely sold out!