Shows
Theatresports | Improvised Comedy with On The Fly Impro
**PLEASE NOTE TICKET SALES FOR THIS EVENT HAVE BEEN SUSPENDED AS OF 16 NOV DUE TO COVID-19 RESTRICTIONS**

It's daring! It's exciting! It's everyone's favourite impro show: Theatresports.
Theatresports mixes the thrill of impro with the energy of a sporting event, putting you right on the sidelines of side-splitting scenes as our teams go head-to-head on stage, making everything up on the spot!
Performing short games (like the kind you see on Whose Line is It Anyway? and Thank God You're Here!) this hilarious show pits some of Adelaide's best improvisers against each other in a battle for your love, laughter and the coveted SA Theatresports Cup trophy!
Looking for family-friendly entertainment? All our Theatresports shows are rated G, with the knowledge that content is not guaranteed!
Tickets $10 online or at the door. Due to limited capacity for Covid-19 restrictions, we recommend booking online early to avoid disappointment!

TheatresportsTM is created (©) by Keith Johnstone and is a trademark of International TheatresportsTM Institute, registered in the U.S.A., Canada and other countries. All Rights Reserved.
Produced by ImproNOW! Production rights are exclusively managed by International TheatresportsTM Insititute: www.theatresports.com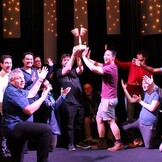 This event has completely sold out!