Shows
BOHEMIAN LAW DEGREE
The Cast and Crew of the Adelaide Law Revue 2020 are proud to present...
Bohemian Law Degree!
In an effort to keep the Live Theatre Experience alive in South Australia, we, a mostly wholesome group of self-absorbed law students have written, choreographed and will perform a majestic show filled with comedy and questionable talent.
As the only Law Revue in Adelaide we have taken on the sole responsibility of saving your 2020 by providing you with an opportunity to laugh and cringe until you cry.
Come witness this once in a lifetime experience. I promise that there will be at least quantity if the quality has run away.
With the historical impact of Hamilton, the social tact of cancel culture and the cultural significance of WAP, come experience the chaotic phenomenon that is the Adelaide Law Revue
DIRECTED by: Samantha Millett
CAST: Rory Clark, Jack Eccleston, Harry Edmonds, Chelsea Fernandez, Alice McKay, Zac Moore, Eilis Noone, Georgia Penglis, Esther Wong, William Richards, Bellarose Watts and Jack Walsh
DATES:
Wednesday 16 September
Thursday 17 September
Friday 18 September
Saturday 19 September
Facebook Link: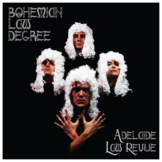 This event has completely sold out!