Shows
Level 2: Long Form | Workshop Series with On the Fly
Please note that the classes on 21 and 28 July have been cancelled due to COVID-19 restrictions.
A catch-up class will be run on Wednesday 4 August instead of our usual jam. MASKS ARE COMPULSORY.
Please see our Facebook/Instagram posts for more information.
Suitable for Long Form first-timers and people who have completed a Long Form course before!

You've learnt the foundations of improvised theatre; from basic skills and characters, to scenes and games. Now it's time to put these skills into practice in long-form improv.

In this workshop series, you will learn the process of creating colourful and engaging long-form performances, try common and unique long-form formats, and most importantly, learn how to ensure that your performance is always of the highest quality.

Even if you've done this course before, or otherwise dipped your toes into long-form improv, this workshop will help you hone the skills and experiences you need to become a confident and consistent creator of long-form shows such as Masterpiece Improv, Unplotted Potter, and Space Quest. A smaller class size, plus more opportunities to try a full long form await those who completed this course in 2020.

So join Eden Trebilco from Changing Jennifers for this fun and exciting adventure into long-form theatre!

***KEY DETAILS***
Date: Wednesdays, 8:15pm, 9 June - 28 July (excluding 7 July).
Venue: The Joinery, 111 Franklin Street Adelaide
Duration: 90 minutes per class
Pre-requisites: Completion of one year or more of improvisation workshops with On the Fly Impro or a similar organisation (Level 2)
Dress Code: Casual and comfy
Cost: $12 full price/ $7 concession per class (or $10 full price/$5 concession for members of On the Fly).
Buy all classes upfront online to receive a guaranteed place, plus a bulk discount. If not sold out, tickets for individual weeks will become available closer to the date.


*** COVID-19 POLICIES ***
Due to government restrictions and to help everyone feel safe, there will be a few changes to the way our workshops usually run. These workshops will:
- Be discounted to help everyone get back into improv after the pandemic!
- Have strict limits to the number of participants in each workshop. Book online to avoid disappointment!
If you are feeling sick, do NOT attend.
You are also asked not to touch anyone during the workshop, practice physical distancing and maintain good hand hygiene.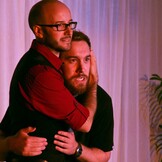 This event has completely sold out!