Shows
Improv Workshop: Level 2 (Intermediate)
On the Fly Impro are so excited to announce we are starting up our improvisation workshops again! Join us for a series of one-off workshops led by an On the Fly tutor, revisiting and developing skills, playing games and scenes, and having fun! This workshop is for Level 2 (Intermediate) performers. You are Level 2 if you have completed 4 terms (one year) or more of improvisation training with On the Fly. If you have completed fewer than 4 terms, please book into our Level 1 or Come & Try workshops!
*** COVID-19 Policies ***
Due to government restrictions and to help everyone feel safe, there will be a few changes to the way our workshops usually run. These workshops will:
- Be discounted to help everyone get back into improv after the pandemic!
- Be self-contained each week, so you don't need to lock in to a term of classes
- Run for 90 minutes instead of 2 hours
- Accept online-bookings only (no door sales).

If you are feeling sick, do NOT attend. Let us know before the workshop and we can offer you a refund (the more notice the better, but any time before the workshop is fine). You are also asked not to touch anyone during the workshop, practice physical distancing and maintain good hand hygiene
*** KEY DETAILS ***

Cost: $12 full price/ $7 concession (or $10 full price/$5 concession for members of On the Fly)
Date: 8:15 - 9:45pm, Wednesdays 1, 15 & 22 July
Venue: The Joinery, 111 Franklin St, Adelaide SA 5000
Dress code: Casual and comfy
Experience Needed: Completed 4 or more terms of improvisation training with On the Fly Impro (more than one year).
*** BOOK NOW ***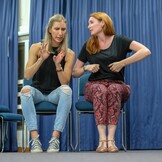 This event has completely sold out!