Shows
Road
Adelaide College of the Arts Acting, Design and Technical Production Students present
Road
by Jim Cartwright
Directed by Chris Drummond
Under the guidance of the rum-soaked wideboy Scullery, we are taken on an evening's tour of a scruffy, depressed road in a small Lancashire town. Moving from street corner to living room, from bedroom to kitchen, we meet the inhabitants of young middle-aged and old, glimpsing their socially and emotionally wretched lives, in this sharp, sad, funny and angry play.
You'll meet "all-sorts" down here, I'm telling you love.

Content warning: This play contains adult themes and coarse language.
X Space Theatre
39 Light Square Adelaide
7.30pm 29, 30 Nov & 2, 3 Dec 2019
2.00pm 30 November
An Amateur Production By Arrangement with ORiGiN™ Theatrical, on behalf of RIGHTS HOLDER.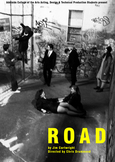 This event has completely sold out!