Shows
Making A Scene | Intermediate Improv Workshop with On The Fly 2019 (October)
Intermediate Improv Classes: Making A Scene
Wednesdays 9 October – 27 November @ 7.30pm–9.30pm (excludes 6 November)
The Joinery, 111 Franklin St, Adelaide.
Making bold choices in scenes and trusting your scene partner to jump with you can be nerve-wracking. But that doesn't mean you shouldn't jump!
Over seven weeks, we'll explore some of the key concepts in scene work including being willing to fail, emotion and narrative in a way that will help you enjoy the freefall in a scene, and to really and truly play in the moment with your scene partners. Come play!

Pre-requisites: None. All welcome.
Dress Code: Casual and comfy
Duration: 2 hours per class
Cost: $20 per class (concession $15) for seven weeks
Discount applies if you buy all classes upfront.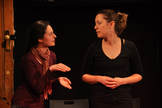 This event has completely sold out!