Shows
Darlinghurst Nights
Adelaide College of the Arts Acting, Design and Technical Production Students present
DARLINGHURST NIGHTS
Book by Katherine Thomson
Music by Max Lambert
Based on the book DARLINGHURST NIGHTS by Kenneth Slessor
and an original concept by Andrew James
Director Michael Hill
Musical Director Kit Withers
Darlinghurst Nights explores the lives of seven Sydneysiders struggling to make a go of things in Depression-era King's Cross.

Inspired by the poems of Kenneth Slessor, and the mysterious drowning of his friend, Joe Lynch, writer Katherine Thomson (Diving for Pearls) and composer Max Lambert (Miracle City) capture the burgeoning Australian spirit and the unique mishmash of the bohemian, the criminal and the aspirational that was Darlinghurst in the 1920s and 30s.
X Space Theatre
Adelaide College of the Arts
39 Light Square
Adelaide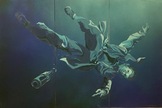 This event has completely sold out!