Shows
AN EVENING WITH ALLAN CASWELL & ANDREW SWIFT @ FLOW BAR
What do you do when a legend of the country music scene and the scene's "new talent" (he's got the Golden Guitar to prove it) want to play the same date...
One is celebrating the launch of his autobiography, the other is touring the final single off his award winning album...
You book them both!
A legend of Australian country music and our most recorded songwriter Allan Caswell is celebrating 50 years in the business with the release of his autobiography, 'My Version Of The Truth'. It's warm, real, honest and often funny with a total absence of punch pulling. Caswell's "adventures" in an often heartless and uncompromising music business is set against an interesting life full of battles, wins and occasional losses. A proud Australian by choice, he has spent 50 years making his mark on Australia's music … it's time to hear his … Version Of The Truth.
Andrew Swift (Swifty or Shafty to his friends) is on the road for his Ball & Chain Tour this Winter, the namesake of the final single just released off his Golden Guitar-winning album 'Call Out For The Cavalry'. Since picking up the double at this year's Golden Guitar Awards the festivals have come a knocking and singles from the album shot up the charts.
The songs and the stories from these two characters will make for an evening not to be missed.
https://www.andrewswift.com.au/
Tix $20 + BF through Dramatix or by prebooking at the Venue
Doors open at 6:00pm for Dinner and Drinks | Show starts at 6:30pm
Pizza and a la carte dinner menu availble from 6:00pm | Doors close at 10:30pm
Check the Venue out below:
https://www.facebook.com/FLOWCAFE/
Accommodation is available upstairs at Boogie Woogie Beach House, check out your options at
http://www.boogiewoogiebeachhouse.com.au/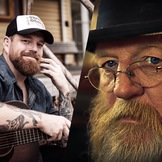 This event has completely sold out!