Shows
Dramatic Improv | Advanced Improv Workshop with On The Fly 2019 (Term 2)
Advanced Improv Classes: Dramatic Improv
Wednesdays 12 June – 21 July @ 7.30pm–9.30pm (excludes 3 July)
The Joinery, 111 Franklin St, Adelaide.
Improv is a great way to create spontaneous comedy. But while you're having fun, improv can also be used to create engaging stories and truthful characters.
Dramatic Improv explores the ways the characters interact with one another to reveal real authentic moments on stage. You'll learn to how to start and sustain genuine scenes and create create powerful relationships between characters.
Taught by Elja Parsons (Scriptease), by approaching improv with a slightly 'serious' look, you'll create more grounded performances that are perfect for both Comedy and Drama.

Pre-requisites: None. All welcome.
Dress Code: Casual and comfy
Duration: 2 hours per class
Cost: $20 per class (concession $15) for seven weeks ($12/$8 Members)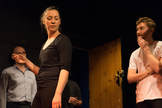 This event has completely sold out!