Shows
G
Bachelor of Creative Arts (Dance) Students and Technical Production Students present Australian Dance Theatre's
G
In 2019, Australian Dance Theatre celebrates 20 years under the Artistic Direction of Garry Stewart.
In 2008, Australian Dance Theatre's Artistic Director Garry Stewart created G, a sophisticated reworking of the classical ballet Giselle. Drawing upon the themes of the original story, hysteria, vulnerability, desire, gender, death and the afterlife, G brings the past into the present with Stewart's explosive trademark style.
Kialea-Nadine Williams, former dancer of Australian Dance Theatre and original cast member of G, is re-mounting this production on AC Arts and Flinders University Dance Students. This production is in collaboration with Flinders Costume and AC Arts Technical Production Students supported by ADT Technical Staff and Novatech Creative Event Technology.
Original Production
Concept & Direction - Garry Stewart
Choreography - Garry Stewart & the dancers of ADT
Assistant Choreographer - Larissa McGowan
Set Designer - Garry Stewart
Lighting Designer - Geoff Cobham
Composer - Luke Smiles (motion laboratories)
Costume Designer - Gaelle Mellis
Technical Director – Paul Cowley
Dramaturgical Consultant - Anne Thompson
Adelaide College of the Arts Remount
Remount Director – Kialea-Nadine Williams
Technical Consultant – Chris Petridis
Venue: Main Theatre Adelaide College of the Arts
39 Light Square Adelaide
Australian Dance Theatre's G was co-commissioned by The Joyce Theater's Stephen and Cathy Weinroth Fund for New Work (New York), Southbank Centre (London) and Merrigong Theatre Co. at Illawarra Performing Arts Centre (Wollongong) and was co-produced by Théâtre de la Ville (Paris).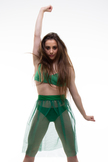 This event has completely sold out!