Shows
Titus Andronicus
Adelaide College of the Arts Acting Design and technical production students present
Titus Andronicus by William Shakespeare
Directed by Charley Sanders

"Titus Andronicus, Rome's most honoured general, returns victorious from wars against the Goths with their queen - Tamora - her sons and her lover as captives. When her eldest son is sacrificed by Titus she vows revenge, setting off a bloody cycle of murder in the name of honour and loyalty.
Part tragedy, part political thriller, part schlock slasher flick, 'Titus' is Shakespeare at his most brutal and ironic, and a stark warning of what can happen when every act strips away another layer of civility - the perfect play for an age when public life teeters between the tragic and the absurd."
AUDIENCE ADVISORY: Please note this production contains graphic depictions of violence and sexual assault. It is not recommended for people under 15 years.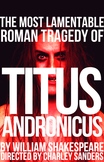 This event has completely sold out!