Shows
Strictly Ballroom The Musical
Matt Byrne Media will present the SA Premiere of Aussie genius Baz Luhrmann's Strictly Ballroom The Musical this July.
The scintillating show will play the Arts Theatre from July 4 to 13 and Elizabeth's Shedley Theatre from July 18 to 27.
Strictly Ballroom tells the story of maverick dancer Scott Hastings whose wish to find new steps, earns him the disdain of his more conventionally-minded colleagues and the all powerful Federation.
When he pairs with a shy, left-footed local girl called Fran they confound the critics and the rules to challenge for the National Championship.
The 1992 film was a massive hit, making stars of Paul Mercurio and Tara Morice. Creator Baz Luhrmann finally brought the much-loved story he had created at NIDA, back to the stage in 2014.
Now we have an all-Adelaide cast starring Kurt Benton and Kate Harrison as Scott and Fran … it's Strictly Australian, Strictly 80s, It's Strictly Rebellious and Strictly Romantic as they put their best feet forward in Strictly Ballroom!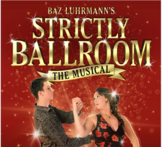 This event has completely sold out!