Shows
Space Quest!
Inspired by classic science fiction franchises like Star Trek, Star Wars, Battlestar Gallactica, and Lost In Space; SPACE QUEST! is a riotous romp through the final frontier! Entirely improvised, watch as the performers boldly stumble where no one has stumbled before.
GOLD CLASS IMPROV AVAILABLE!
Before the show, you can order food and drink to arrive at your table during the performance at specific times!
Thursdays in October @ 7:30pm
The Duke Of Brunswick - 207 Gilbert Street, Adelaide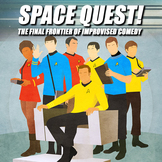 This event has completely sold out!