Shows
Ladies Night @ the Rams
The Rams Women's Baseball Team are holding their end of season Ladies Night on Feb 22 at the club and you are invited.
Games start at 6.30pm, bar facilities will be available from 5.30pm and platter food (such as pies, sausage rolls, wraps, chicken wings, sushi and cheese/meats, dips, etc) will be served from approx 8.30pm for a small cost of $10.00 per person. Or you can buy a $20.00 ticket and be in line to win a massive $300.00 first prize in the Lady Rams 80s, 90s, 00s iPod Shuffle Raffle which will be played between approx 9.00pm and 11.00pm - LAST SONG PLAYED WINS THE MONEY. A $30.00 ticket gets you an iPod Shuffle Raffle ticket PLUS the platters.
All iPod Shuffle Raffle ticket purchases puts you in the mix to win the door prize and also the BOOBY prize (first song played in the iPod shuffle!), prizes are donated by sponsors - $30.00 Bakers Delight voucher plus wines from the Ramsgate Hotel.
ONLY 30 TICKETS WILL BE SOLD IN THE RAFFLE.
So Come On Eileen and Spice Up Your Life because Girls Just Wanna Have Fun and Rock and Rock All Night in the Paradise City!!
On purchase of a $30.00 or $20.00 ticket, please ensure your name is clearly entered into the buyer field and that you respond directly to us with your best 3 songs from the 80s, 90s or 00s and we will enter one into the iPod Shuffle Raffle on your behalf. A full list of songs and names will be displayed on the night.
Good Luck, $300.00 could be coming your way!
Email questions or songs to hgbctickets@outlook.com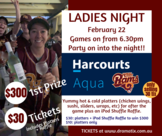 This event has completely sold out!