Shows
Improv Battle Royale
"Like Whose Line Is It Anyway... but LIVE!"
Once a month on a Friday night the best local improvisers come down to The Duke Of Brunswick to compete against one another in a no holds barred battle royale!
Lots of games! Lots of laughs! Lots of drinks! It's an improv party and you're all invited!
Fridays, monthly @ 7:30pm
The Duke Of Brunswick - 207 Gilbert Street, Adelaide
GOLD CLASS IMPROV AVAILABLE!
Before the show, you can order food and drink to arrive at your table during the performance at specific times!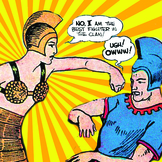 This event has completely sold out!