Shows
Aftershocks
Adelaide College of the Arts Acting, Design and Technical Production Students present
Aftershocks
By Paul Brown and the Workers Cultural Action Committee
Directed by Terence Crawford
Designer Bianka Kennedy
Composer James Oborn
Aftershocks is the story of the 1989 Newcastle earthquake—which took 14 people's lives—as told by the staff, members and friends of the Newcastle Worker' Club, which bore the full force of the quake.
It is Australia's most celebrated example of verbatim theatre, having been the subject of many productions, an SBS documentary, and a feature film.
These are extraordinary tales of the things people find within themselves in calamitous circumstances, and the 'aftershocks' – the way such discoveries change lives.
Main Theatre
39 Light Square Adelaide
28 November – 1 December 2018 at 7.30pm
1 December at 2.00pm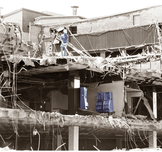 This event has completely sold out!