Shows
Andy Seymour - Standards Cool Jazz and Smooth Soul
With a larger than life stage presence, Andy Seymour has the ability to transform even mediocre material into a compelling tale from the heart. He draws you in & invites you to get to know him.
He doesn't sing to the audience; he sings to you.
Blending Jazz & Blues with smooth Soul, Andy's sumptuous vocals breathe sophisticated new life into timeless classics, with his heart in every note. He was the first Australian to perform an acclaimed season in Tokyo's New York Jazz Bar.
Performances in Las Vegas & for British Royalty have cemented his international standing.
"Seymour is in complete control of his material & has what it takes to wow an audience"
-The Adelaide Advertiser
"He launched into his first song, and the front row spontaneously combusted"
-Planeta en Ritmo Festival, Austin Texas
"This guy is one cool Daddy-o"
-Rip it up Magazine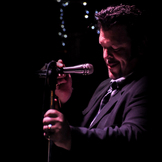 This event has completely sold out!