Shows
Intro to Impro | Beginners Improv Workshop with On The Fly
8 August – 26 September 2018, Wednesdays @ 7.30pm (8 weeks)
Is there a performer inside you, dying to get out? Are you an actor looking to develop your improvisation skills? Want to improve your public speaking skills or feel more comfortable when put on the spot?

If you answered yes to any of these questions, or you just want to have a truckload of fun, improvisation is for you!
Improvisation has been made popular by television shows such as Thank God You're Here and Whose Line is it Anyway?, and now you can join On the Fly's experienced teachers to explore its core concepts over eight weeks, in a supportive and collaborative environment.

Pre-requisites: None
Tutors: TBC
Dress Code: Casual and comfy
Cost? $12 per class (concession $8) for eight weeks
Discount applied when purchasing all classes upfront online.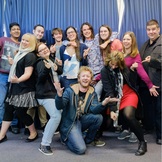 This event has completely sold out!