Shows
Dealer's Choice - Gold Class Improv
This November, Scriptease takes the unexpected of improvisation to the next level! In Dealer's Choice, it's up to our dealer for the night to choose the whole format of the show, and even our performers won't know what form the show will take until that night!! What will be chosen? An evening at the movies, an apocalypse drama, or a show where you the audience can choose to cull characters and stories along the way – any or all of these could be dealt out to our players in Dealer's Choice!
Will there be a straight flush, or will the chips be down? Don't miss out on seeing what tricks the dealers have up their sleeves! Any way the cards are dealt, you can be sure of a hilarious night out.
"Scriptease is a prime example of how improv should be done" - Glam Adelaide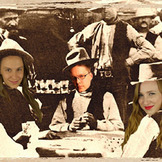 This event has completely sold out!