Shows
See What Sticks - Gold Class Improv
From the improvisers who brought you MidWinter Murders and UnPlotted Potter comes See What Sticks!
Have you ever wanted to compete on a game show such as Minute to Win It? In See What Sticks, 3 volunteers will be challenged at the start of every show to participate in a game which will inspire a brand new, hilarious improvised story!! You throw us your best suggestions (literally!) and we transform them into a dazzling story before your very eyes. Don't miss your chance to See What Sticks!!
"These guys will have you laughing hysterically and sometimes you won't even know why." – Glam Adelaide
"Anything can happen, and often will" - Yaniism
Enjoy a Gold Class experience by purchasing food and beverages to be discreetly served to you whilst you enjoy the show!
Note: Food and beverages are not included in the ticket price.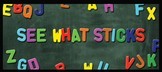 This event has completely sold out!