Shows
Longform| Advanced Improv Workshop with On The Fly
4 April – 23 May 2018, Wednesdays @ 7.30pm
Downstairs, Box Factory, 59 Regent St South, Adelaide
You've learnt the basics, done short scenes, played games... but what's next?

This workshop will introduce you to one of the most exciting and daring improvisational styles, Longform.

Longform Impro (typically) grows from a single audience suggestion into a fully fledged improvised show. It forms the foundation of many of Adelaide's popular improvised shows including Improvised Improv, SOAP, and Unplotted Potter.

From strong character choices and storytelling to creating entire worlds, join Eden Trebilco (Changing Jennifers) to learn the skills you need to create Longform shows.
Pre-requisites: Intermediate level training or similar
Tutors: Eden Trebilco
Dress Code: Casual and comfy
Cost? Members: $12 per class (concession $8)
Non-Members: $20 per class (concession $15)
Discount applied when purchasing upfront online.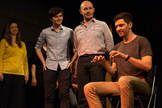 This event has completely sold out!