Shows
Improv Adelaide 2018 Launch Show
HAPPY NEW YEAR!!!
It's 2018 and Improv Adelaide has got a whole lot of new and exciting shows to bring you over the next twelve months; and there's no better way to find out what's going on than by coming to the IMPROV ADELAIDE 2018 LAUNCH SHOW!
We'll have performers from all the shows coming up in 2018 performing together in a looney rigamarole of a show. You'll get a free 2018 guide book and maybe even some cheap tickets to upcoming seasons!
Don't miss out; it's sure to be a blast!
Featuring Claire Bottrall, Sam Calleja, Sam Griffin, Dan Hamilton, Elja Parsons, Curtis Shipley, Eden Trebilco, and Kirsty Wigg.
Thursday, January 25 @ 7:30PM
La Boheme - 36 Grote Street, Adelaide
Tickets $10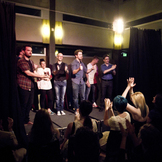 This event has completely sold out!