Shows
Changing Jennifers Christmas Show
Impossible! Inconceivable! It can't be! It came around so quickly! It's...
THE CHANGING JENNIFERS CHRISTMAS SHOW!!!
Yes, aside from politically charged family arguments and dry turkey, the Changing Jennifers Christmas Show is the event most synonymous with the festive season!
We've got prizes! We've got food! We've got presents for everyone! Not to mention delicious drinks and a bucket load of Christmas cheer*! Get your tickets online NOW to ensure you have a place at the event of the year!
*It's also an improv show.
Featuring Sam Calleja, Sam Griffin, Dan Hamilton, Will Mellor, and Eden Trebilco.
Thursday, December 20th @ 7:30pm
La Boheme - 36 Grote Street, Adelaide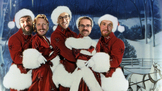 This event has completely sold out!