Shows
2017 Graduation Dance
Bachelor of Creative Arts (Dance) Students present Term 4 Dance Double Bill
Featuring the work of Graduating Dancers and Technical Production Students
21 (The Solution is Temporary) Choreographer Lee Brummer
"21" is a contemporary dance and physical theatre work which uses text portraying a personal story as well as every day matters, moments and memories of a young adult.
I SAY YES Choreographer Israel Aloni
I SAY YES is a journey through both the fantasy and the reality of matrimonial ceremonies.
What is it in our mind that idealizes white weddings?
The piece oppose the protective approach to plasticized weddings and aspires to stretch the realm of what a wedding is and whether individuals need to wed in order to be married.
Main Theatre
39 Light Square Adelaide
7.00pm 29 November to 2 December 2017
Tickets: dramatix .com.au Adults $25 Concession $15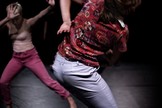 This event has completely sold out!