Shows
Term 2 Dance Triple Bill
Adelaide College of the Arts & Flinders University Bachelor of Creative Arts (Dance)Students present:
Term 2 Dance Triple Bill
Featuring the work of 2nd & 3rd year Dancers & Technical Production Students
Dying for Life choreographed and directed by Michael Ramsay
Immortality, the light in the darkness that is time.
Let's hope to exist just as the circle never ends.
Accept death and you will live.
Birds directed by Jo Stone
Through the eyes of the 'birds', who play 'the birds' in the Hitchcock film "The Birds", this work is a play on the relationship between animals and humans. An observing of humanity from above.
FIVE choreographed and directed by Katrina Lazaroff
Plato called the study of number symbolism "the highest level of knowledge".
Pythagoras believed numbers had souls, as well as magical powers.
'FIVE' explores number meaning, symbology and our relationships to numbers.
5 females, 5 character stories, 5 senses, 5, 4, 3, 2, 1 in music and numerology.
Main Theatre
Adelaide College of the Arts
39 Light Square Adelaide
14 to 17 June at 7.00pm
15 & 16 June at 12.30pm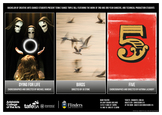 This event has completely sold out!