Shows
FRUIT - THE RETURN 3 and 4 NOVEMBER
LIMITED RELEASE OF ADDITIONAL TICKETS

TRINITY SESSIONS PRESENTS FRUIT - 3 and 4 NOVEMBER Music 8pm Doors 7.30pm Licensed bar pre-show and interval with food at interval by Little Seeds.
"On the night of October 11th, 2003, in a beautiful church in Adelaide, the 3 singer songwriters of the internationally acclaimed Adelaide band FRUIT came together for a rare opportunity to play and rock together in their simplest format – guitars, horns and voices…" Susie Keynes
Trinity Sessions has become one of Adelaide's iconic music venues for touring and local artists. Kicking off in 2002, it was the brainchild of Roger and Yvonne Freeman, who were looking to bring their passion for live and original music into an innovative, evocative and focused performance space. Their local church, The Church of the Trinity on Goodwood Road, was just that. Fruit were the very first band to play at Trinity Sessions on 7 April 2002 and the next year the founding members of FRUIT - Mel Watson, Sam Lohs and Susie Keynes - played and recorded one of their greatly celebrated live albums. Over the last 15 years this acclaimed venue has gone on to present over 230 concerts of Australian and international artists.
Its time to celebrate this – and what better way than to bring back the band that started it all, back for a rare show – the likes of which has not been seen since two sold out reunion shows in Adelaide during the Feast Festival in 2012.
Following a music career spanning decades and the globe, the members of FRUIT have been living rich lives and it's no mean feat getting them back together from overseas and interstate. Mel returns from her irrepressibly creative life in Seattle, Sam from her musical and painting world in Melbourne and Susie from her newfound medical career, this gig will celebrate music, harmonies, creative relationships and many years of great gigs in this great venue.
"To sing together brings us joy. To create makes us whole. With this we offer you a night of our music. Created in the beautiful Church of the Trinity…" From the liner notes of Fruit the Trio Album – Live at the Church, 2003.
With the spirit of the travelling Waifs and the vocal depth that puts pop princesses to shame, FRUiT promise an explosive live experience.
Clara Iaccarino, Sydney Morning Herald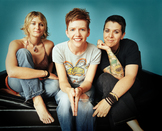 This event has completely sold out!