Shows
Open Mic Improv
Open Mic Improv

Presented on the last Thursday of every month, the OPEN MIC IMPROV NIGHT gives anyone who wants to try their hand at improv the opportunity!

No stakes. No pressure. Just bring some friends and get on stage!

All OPEN MIC IMPROV NIGHTS are after a Thursday night improv show, so the cast from that show will stick around and help you through your scenes.
It's a tremendous chance to see what being on stage in an improv show is all about, and to perform with Improv Adelaide's best performers!
29 Nov 2018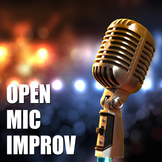 No tickets are required for this event.
We look forward to seeing you at Multiple venues at 29 Nov 18 08:45 PM.