Shows
Kirinpal Singh Santoor Maestro - Mystic Music of India
Please note that the start time for this event is 7:30pm
From Buckinham Palace to Adelaide. Hats Globo brings you a mystical, musical Indian night.
Kiranpal Singh (UK) Santoor Maestro is performing in Auburn & Adelaide. A very exciting Santoor (indian hammer dulcimer) performer. Kiranpal Singh Deoora,is one of a select few performers of Indian Classical Music on the Santoor, Kiranpal Singh is UK 's Santoor Maestro having learnt his art in the traditional way in UK [tabla,vocal] and Bombay, India. Kiranpal lives in London, he plays regular concerts all over the globe. He has played for HRH Prince Phillip at Buckingham Palace, as well as South Bank Halls numerous times. He has played at Spittalfields Festival and London Mela as well as other prestigious festivals. He is a leading disciple of Pandit Shiv Kumar Sharma (seen at sveral Womadelaide's . Supported by the amazing talents of Tabla player Jay Dabgar from Melbourne.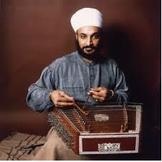 This event has completely sold out!