Shows
The Grigoryan Brothers CD Launch Songs Without Words
TRINITY SESSION PRESENTS SLAVA AND LEONARD GRIGORYAN LAUNCHING THEIR NEW CD IN ADELAIDE. Music 7.30pm. Doors 7.00pm Bar available pre-show and interval.
"Guitar playing of uncommon originality and authority. Musicality, expressivity and daring," The New York Times
"Their ability to play as if drawing from a shared musical consciousness and their subtle nuances of tempo, bordered on the uncanny," The West Australian
Undoubtedly Australia's most celebrated guitar duo, the Grigoryan Brothers have a power, vitality and precision that pushes the boundary of guitar virtuosity to new heights. This performance will feature works from their latest release Songs Without Words.
Songs Without Words is the artists' seventh album together and their first album in almost three years. Its release comes off the back of the success last year of Slava's Bach – Cello Suites Volume 1, which held first place in the ABC Classic Charts for a record breaking thirteen weeks running. This new album continues this return to the classics with a focus on works by Elgar, Dvořák, Rachmaninoff and Bach. As always the production is a family affair: each piece has been masterfully arranged by their father Edward and displays the brothers' diverse skills and passion for musical exploration.
In concert, the Grigoryan Brothers are known for their unique blend of musical genres. Although regarded as Australia's finest guitar duo performing classical repertoire, the Grigoryan Brothers have also carved out a reputation for expanding their horizons through new arrangements, compositions and commissions.
This ambition will be seen again in this performance, as the brothers' place classical pieces from the new album alongside modern works which explore jazz, folk and contemporary music. Their deep appreciation of a broad spectrum of musical styles has resulted in many collaborations involving music, both written and improvised. Combine this with their classical training and the result is a unique sound incorporating a diverse and surprising range of influences.
"We've always been drawn to music with great melodies and interesting harmonic progression. As guitarists we also want to 'sing' as much as possible when playing. Our concert programs have always included a few 'melodious' pieces and apart from enjoying playing them ourselves it's very obvious that audiences connect with this idea of singing on an instrument," says Slava Grigoryan.
The intimacy of the brothers' performances have entranced audiences worldwide, earning them a large and devoted following. Their chemistry on stage reveals a shared life and a shared musical consciousness. Slava started studying guitar when he was six, Leonard began at four. Each with remarkable solo careers, they first performed together in concert in 1998. Since then they have recorded seven duo albums, been nominated for four ARIA awards and toured through Europe, America, Asia, Russia and the Middle-East.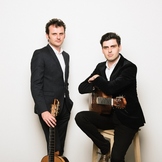 This event has completely sold out!