Shows
3D 17
Adelaide College of the Arts Acting and Technical Production Students present 3D 17.
Two devised shows written, directed and performed by third year acting students.

Frayed
"Six strangers. An underground room. Why is a physicist running a sleep study? Why can't anyone leave? A play in close quarters about the things we do for love."
Canto
"Add 2 cups of flour and a sprinkle of water to your cough box and leave for 30 hours. Trap several artichokes in the screaming bin and shake until guilty. Lay on naked table for 3 seconds, turning sporadically until warm. In a separate bowl, shred glove feet and cover with bubble trap. Bake at 365 ° (degrees) for ever or until sufficiently punished. All aboard the abortion train!"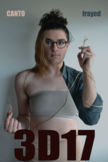 This event has completely sold out!